We've compiled a list of the hot, trending annuals & plants that the nursery industry is all abuzz about. These are all items that we will carry this year and very few Central Nebraska nurseries will carry these hot, brand new items! Check out these plants below and be the first one on the block to have them.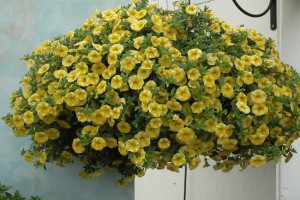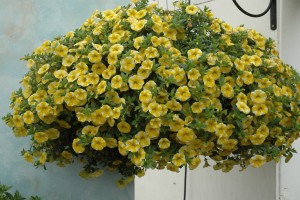 'Lemon Slice' Superbells® Calibrachoa
A Calibrachoa unlike any other, Lemon Slice brings the fresh clean color of a summer afternoon into your hanging baskets or planters! This merry combination of yellow and white stripes suggests beach umbrellas, girls' summer dresses, and yes, lemon slices!   It's the brightest and most fun Superbells® yet, and an absolute must-have this season!

'Cherry Star' Superbells®
Introduced in 2012 'Cherry Star' Superbells has soared to the #1 spot in the calibrachoa family! A star was born with bright pink petals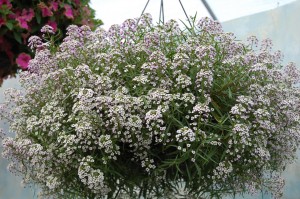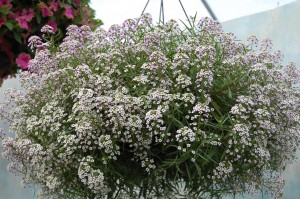 'Blushing Princess' Lobularia
Blushing Princess is the new sister to Snow Princess! This sweet alyssum forms a  beautiful mound of tiny, fragrant light lavender flowers that blush in the summer sun. Blushing Princess adds the finishing touches to the 2013 Proven Winner combo of the year 'Velvet Skies'.

'Picasso in Pink' Supertunia®
Introducing Pretty Much Picasso's little sister, Picasso in Pink!

'3D Berry White' Osteospermum
3D Berry White is a whole new dimension of flower! The 3D Series is the first ever double blooming African Daisy! It's blooms stay open all day and night, unlike other osteo's which close on cloudy days and at night. 3D Berry White  is the new addition to this unique collection for 2013. It has white daisy flowers with a rosy-lavender pompom center making these two-toned

'Hells Bells' Petunia
Hells Bells Petunia is an improved orange colored petunia with a contrasting darker throat, giving it an orange to coral effect.

'Blue My Mind' Evolvulus
These stunning, sky-blue flowers over silver-toned foliage might make you think you're dreaming, but be assured-they're real! An excellent plant because of its drought, heat and humidity tolerance. Don't get in a big hurry to plant too early in the spring, this keeper needs long days and warm temps to flourish!

'Intensia Blueberry' Phlox
By no means is Intensia Blueberry Phlox a new plant to the industry, but it is new to our greenhouses. It has continued to be a top selling and top ranking plant for the Proven Winner line over the past few years. It's vibrant color, mounding habit, continuous flowering and drought & heat tolerance make

'Berry Blend' Luscious Lantana
Berry Blend is an extremely heat and drought tolerant plant displaying phenomenal pink, red, orange and yellow flowers.  Grows 24-36" and best used in large containers and landscape plantings.

Succulents
With a seemingly endless variety of stunning shapes, vibrant colors    and otherworldly textures, succulents allow even the most gardening-challenged to look like artistic garden designers. Their sculptured nature lends itself to mixing & matching for a nearly foolproof choice for decorative containers. Succulents can transform brown thumbs green.

Coleus
Easy going, eye catching plants with stunning foliage color & patterns. Low maintenance, high impact plants complement any large container or landscape planting. Both shade & sun tolerant.
Vino has dark wine colored leave with an upright habit.
Henna has a unique wavy leaves that are chartreuse to copper color complemented by dark burgundy undersides.
Wasabi is one of the best chartreuse colored coleus with deeply serrated leaves.

Thunbergia 'Black-Eyed Susan Vine'
These annual vines grow 3-15' tall, love the sun, heat & humidity and bloom all summer long. The flowers are bright orange or yellow with a brown eye. They look like flaring tubes climbing up trellises or in hanging baskets. Trimming once or twice a season and regular feeding & watering